LEATHER TANNERY LUPRIMO, S.L.
(Luis Prieto Moreno) is an enterprise of leather producer and it is situated in a small village named Villarramiel, Palencia, Spain . In the area of "Tierra de Campos".



LEATHER TANNERY LUPRIMO, S.L. a leather tannery, we devote to the art of hardening the hide. We are a family tradition tannery since 1890 and since then the business has been from generation to generation and we are the fourth generation in this family business now.
We are always exceptional in treating our clients, taking special care of the quality of our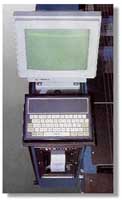 products and we have special anxiety in getting better everyday. We have always tried our best by following our only goal-maintaining the Special Taste of Crafts that have always distinguished our leather in a changing and constant evolutional world.
Our firm is specialized in : yearling calves, calves, necks of cowhide, grain side, cowhide sides and splits, all of them with a full range of colours and finishing.
We adjust ourselves to satisfy every client's requirment so that we can offer the best products to every client's need.
Our leathers are mainly directed to
All of our raw materials are from the best quality and we receive them from the most reliable providers.
Our treatment to our clients is alway very personal so we can exchange different opinions and observations in order to serve better to our clients.
---
Sacramento, 1 34341 Villarramiel (Palencia) Spain
Tfno y Fax: (34) 979 837 069
www.curtidosluprimo.com